Capabilities
Quality Assurance
Quality skills and quality management go hand in hand. Having the certainty that your project has the backing of true quality assurance gives you peace of mind. That's where clients and partners know that Shadbolt Group is the professional team they can rely on. Each project is completed in the timeliest manner through complete and detailed Quality Assurance procedures.
BAE Systems – Fabrication of Turbo Duct with quality assurance.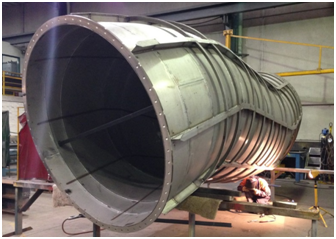 With proven expertise and unmatched dependability, Shadbolt Group continues to deliver the very best in engineering solutions. It is one thing to have a quality assurance system in place, it's another to go one step further by taking the path of continuous improvement. That's where Shadbolt Group stands out from the others.
We're a team that always strives to go above and beyond with every task we undertake, that's why we have undertaken the SC21 (Supplier Continuous Improvement Program) to find ways to further improve productivity and Quality Assurance auditability.
We are proud to have built relationships with some of the leading names in a wide range of industries, including:
The ADF (Australian Defence Force)
BAE Systems Global Access
Navantia
NSM
UGL
Thales
A & P (Atlantic Peninsula)
Shadbolt Group has a certified Quality Management System and operate all quality systems under the AS/NZS ISO 9001:2016 accreditation.
Shadbolt Group is committed to:
Understanding customer needs and strive not just to meet but exceed them
Produce projects to specification
Involving its people at all levels and providing leadership to improve performance
Using a systematic approach to achieving a quality product and focusing on management of processes
Achieve realistic delivery performances
Aim to have zero customer non-conformance
With our trademark 'Can Do' attitude comes a dedication to getting the job done right – that's on time and on budget. That's the Shadbolt difference.