Shadbolt Group is a leading fabricator of steel pipe spooling and pipework systems. We are knowledgeable with all aspects of pressure piping to meet specific codes of compliance.
We know that our customers don't just look to us to supply pipework. They rely on us for our industry knowledge and our willingness to go the extra mile to meet their requirements, and trust us to deliver the best quality fabrication and installation on time and on budget.
We appreciate quality and realise that the job isn't finished just because the pipe is welded.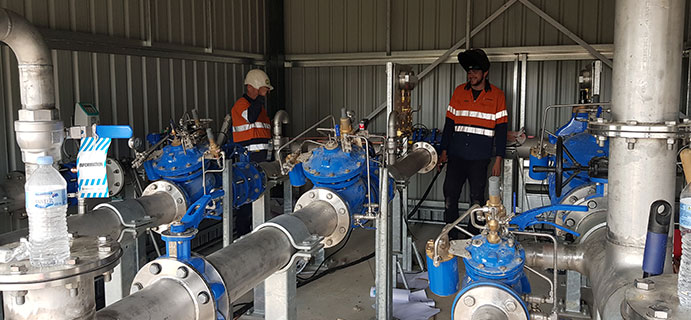 Traceability is vital.
That is why with every pipe welding project we can provide copies of Inspection & Test Plan, Safe Work Method Statement, Welding Procedure Specification, Welder Qualification Record and Welding Record Sheet.
Our pipework capabilities include:
Shop drawing
Shop spooling
Skid units, pipe racks / pre-assembled units & site installation
Stainless steel, carbon steel, copper nickel and aluminium
Piping designed for high pressure and/or corrosive applications
Pipe sizes 15NB to 1500NB
Development of drawings from simple layouts / schematics into working fabrication / installation drawings (provide as-built drawings)
Non-destructive testing by arrangement
General Mechanical Engineering
Piping & Control Systems
Pipe Header Systems & Manifolds
Pipe Racks / Skid Units / Pre – Assembled Units
Our specialised offerings cover;
In house welding supervisors and inspectors
Welding pipework of dissimilar metals
Repair & Refurbishment to existing installations
Fast Response to clients urgent requirements
Fast track project delivery as required
Plant Shutdowns & Turnarounds
Turnkey Projects
Our Welding Expertise includes:
Processes – SMAW, GTAW, GMAW, STT, etc.
Welding Specification Standards – ASME IX Boiler & Pressure Vessel Code Welding
ASME IX & AS3992 Welding Procedures
Welder Approval and Qualification to AS3992, AS4041, ASME IX, ASME D31.3
Our skills are matched by the combination of our trademark 'Can Do' attitude with a commitment to getting the job done right – on time and on budget. That's the Shadbolt difference.