Capabilities
General & Structural Fabrication
When it comes to the best in General & Structural Fabrication, you can't go past the expert team at Shadbolt Group. With over 30 years' experience in a wide range of high-grade fabrication projects, we  ensure each project gets the very best end result.
It comes by partnering with each client and knowing exactly what they want and need. That remains the focus of everything we do. It's crucial that each step in any general and structural fabrication project is done with precision planning, expertise and true professionalism.
Structural fabrication is a multifaceted process. There cannot be a 'one size fits all' approach.
Any structural fabrication work requires specialised knowledge, skills, and resources to complete the project successfully. That's where Shadbolt Group continue to grow in reputation for quality.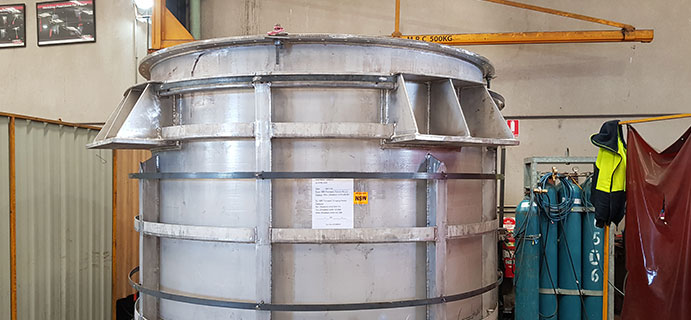 Our team are highly proficient in performing the highest level of fabrication.
From the very beginning, we partner with the client to map out the details of the entire project. Each part of the process is performed with Shadbolt Group's trademark of quality assurance.
We are proud to provide general, structural and custom fabrication expertise, including:
Initial conceptual work
Blueprints & Drawings
Cutting, Drilling and Piece Etching
Component Assembly
Any Specialised Machining
Completed Assembly
Transport and Installation
Shadbolt Group give you the competitive advantage with our ability to offer the best in our full in-house manufacturing capacity. This includes general & specialised fabrication and machining in all materials, with specialist welding technology quality-controlled manufacturing.
Small fabrications and repairs which require certified welding and testing are one of Shadbolt Group's specialties. We can provide fully qualified welding to AS / NZS / ASME / API standards by our certified welders.
Shadbolt Group are the experts in the fabrication and welding of exotic materials to x-ray/ultrasonic quality.
We are a major supplier of manufactured steel products, either being fully manufactured or supplied as partly manufactured sub-assemblies.
Specialise in light, medium and heavy fabrication
Large purpose built facilities housing a good combination of machinery
For optimum materials handling we have overhead cranes, lifting attachments and forklifts
Heat treatment and stress relieving
We cover a wide range in areas of supply, such as; Defence, Mining, Transport, Construction, Energy (oil, gas & renewable), Pulp and Paper, Materials Handling, Marine, Water & Wastewater industries, all varying in physical size and project value.
Shadbolt Group has a vast staff contingent and a combination of machinery allowing us to fulfil just about all requirements. We have interest in all forms of work ranging from minor to major fabrication and project installation work.
It's all about being focused on the best result for each and every client. Having a combination of our trademark 'Can Do' attitude with a commitment to getting the job done right – both on time and on budget. That's the Shadbolt difference.